Carrot
Carrot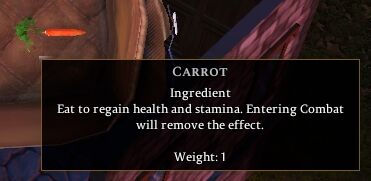 Weight: 1
Sells for 4

(10 stack)
Carrot is a food type. It is used as an ingredient for the Cooking skill.
Carrots can be harvested using Gardening. Players can grow them from seeds that can be looted from the following creatures:
Carrots can be bought for 4

from merchants in the following towns:
When a carrot is cooked using the cooking skill, it can be used to provide temporary buff to your character.
Carrots are a tier 1 food that gives a 5 minute 8 point boost to your Stamina. It can be cooked with any other ingredient that does not give the same attribute boost.