League of Dungeoneers
The League of Dungeoneers, located within the Valdheim Guard Outpost, is one of four Leagues of Celador.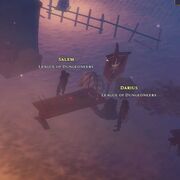 The Dungeoneers offer quests related to PvE and Dungeons. Upon completion of a quest, a player is rewarded with favor. Once enough favor is accumulated, players can exchange it for unique and valuable items.
Darius will grant missions when interacted with. Darius can be stubborn and withholding of available quests and sometimes needs to be spoken with repeatedly.
Salem will exchange favor earned for items.
| Item | Cost | Description |
| --- | --- | --- |
| Dungeoneers Necklace | 36000 | A necklace that grants +10 health, 10% Spell Block, 15% Hit Chance, 20% Increased Attack, and +50 weight capacity |
| Dungeoneer Hair Dye | 8000 | A single use, exclusive hair dye |
| Dungeoneer Cloth Dye | 8000 | A unique cloth dye |
| Dungeoneer Leather Dye | 8000 | A unique leather dye |
| Dungeoneer Cloak | 18000 | A unique cloak |
| Title Scroll: The Cold-Hearted | 24000 | A scroll that unlocks the title 'The Cold-Hearted' |
| Frostbite | 36000 | A spear that grants 50% Increased Attack, 10% Increased Attack Speed, and +50 Healing Received |
| Frostbite Cursed | 48000 | A spear that grants 50% Increased Attack, 10% Increased Attack Speed, and +50 Healing Received |