PRZM Lounge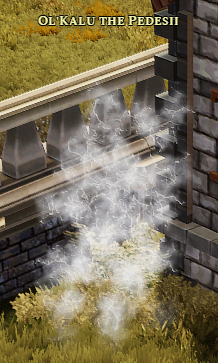 The PRZM Lounge is part of the original rewards from Kickstarter. It was added in point release 7. The theme of the lounge is futuristic with fluorescent colors and space like surroundings. There are 2 sections to the lounge, the main hub is accessible to everyone who back the game during kickstarter at a specific level the other section known as the VIP area is for those who backed the the game at a higher tier level during kickstarter.
Within the PRZM Lounge there is a a number interesting features that can only be accessed by those who have access to the lounge.
There are a number of potions that have temporary cosmetic affects on the user. The potions are sold within the lounge for gold and can be used outwith the lounge. Below is a list of the available potions
Main Lounge
Potion
Effect
Cost
Gelacious Drink of Star-Soda
Gives the user a temporary sparkling glow
75
Burning Hot Flask of the Habenero
Sets the users head on fire temporarily
15
Electrifying Sour Soda
Creates a temporary lightening effect all over the users body
75
Fuzzy Astro Tonic
Refreshment: Drunk Side effects (blurry screen)
15
Artificial Atomic Cortex Invigorator
Refreshment: Drunk Side effects (blurry screen)
15
VIP Area
Potion
Effect
Cost
Shrinking Potion
Shrinks the user to a smaller scale
35
Growing Potion
Enlarges the user to a larger scale
35
Within the lounge is tall NPCs that are based on the current Citadel Studios team. Each one when interacted with will give a short story of what they do in the world of Celador.
There is a jukebox within the main lounge that plays music from the different towns of Celador. Players can select the next track to play and when the current song is finished it will play the requested song.
In order to enter the PRZM lounge area you must talk to the spirit Ol'Kalu the Pedesii. The spirit will have a number of options but one of them is to enter the lounge. Everyone is able to select this option as it teleports you to the PRZM lounge gate with has a walkway up to the main entrance. Only those who have the requirements to enter will get past the reception and make it into the actual lounge.